Best Horseback Riding and Minutes from Asheville
Smoky Mountain Trail Rides is your premier spot for horseback riding near Asheville North Carolina. We are located in Marshall North Carolina 30 minutes from Asheville and Hot Springs North Carolina. With our historical 550 acre of property we provide a relaxing, informative and entertaining horseback ride. And most of our trails are covered with beautiful oak trees, and you can also enjoy the incredible views in Madison County. Checkout our gallery of pictures with all the happy riders and animals here on the farm. ClickHere
Guided Horseback Trail Rides For Everyone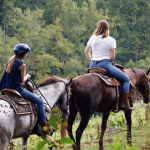 Horseback riding in the mountains of North Carolina provide a thrilling mix of stunning scenery and fabulous mountain trail riding. We ride through tree stands to high vistas with views across deep valleys and smoky ridge tops. The terrain here is dramatic, varied and rugged so horse and rider are provided an evolving backdrop of challenges, obstacles and landscapes to ride through. The scenic grandeur and rewarding challenges of mountain trail riding create a remarkable opportunity to join horse and rider with a natural outdoor setting.
 Call Now For Summer Fun And Horseback Riding

Now is the time to call Gary at Smoky Mountain Trail Rides for your summer horseback riding fun. Just 30 minutes from Asheville and 10 minutes from Weaverville. We have great special pricing with 5 people or more in a group. Summer camp groups are also welcome.
With close to thirty horses to choose from,  we can find the right one for you. More the better ! Come and enjoy the petting zoo and also views of our beautiful mountain range and the Bison grazing the property. Our trails are second to none ! We also offer wagon rides and overnight camping with appointment.

Wagon Rides
We have a horse drawn carriage to make your wedding day or any special event even that more special. Just like the times in the old western days. Relax with you family while we slowly ride the trails.Call 828-768-9339 or email for pricing.
Testimonials
We actually stumbled upon Smoky Mountain Trail Rides thinking we were at this other place. Are we happy that we made this mistake. The property here is just amazing, in the views are to die for.
For anyone in or visiting the Asheville area, this is a wonderful way to get out of town and into nature. A trail ride through the Smokey Mountains is just the thing to calm nerves and feed your heart. Gary selected a docile horse for me, and showed me the basics of riding before we set off. The trails were steep, as you'd imagine in the mountains, but the horses were surefooted and I had no problems get the hang of riding.The mountain trails were through lush treed forests that opened in expansive views of of the mountains. …
Smokey Mountain Trail Ride With Large Furry Mammals & Gary - Raleigh, North Carolina
My family and I went on our first two-hour rail ride at the Smoky Mountain Bison Farm. All though there wasn't a whole lot to see it was still a fun thing to do.The whole time we was at the Smokey Mountains this would have been one of the most visited places we went. They have good service and the people there was nice.This is a great place to visit when on Vacation or for just a weekend get away. This is a place that I would love to go back to with my family or friends again.
Great Family & Friends Day Out - Danville, West Virginia
My husband and i had the best time. Our guides name was Janet and she was so sweet and Savanna was our other guide and she was also wonderful. It was beautiful seeing the mountain views and the leaves in fall color. We also saw bison and all the other animals at the farm. The animals were all happy and healthy. Garry the owner is smart and friendly and he has wonderful staff We will differently be back next year.
Great Place To Go - Roanoke, Virginia
Our Rates
1-hour ride = $35.00
2-Hour Ride = $65.00
*Group discounts and longer trips are available by contacting us

Our Schedule
10:00am-1:00pm-4:00pm
We ride daily.
Maximum Weight is 270lbs

for each horse